Debt collection is something that most—if not all—companies undertake at one point or another. Yet, this practice still has an air of mystery around it as many entrepreneurs are reluctant to discuss it.

But Slater Byrne Recoveries a Debt Collection in Australia believes that the more you understand something, the more you'll be able to make better decisions for your business. So today, we're providing answers to some of the most frequently asked questions about debt collection services in Australia.
Will it ruin my customer relationships?If done properly, debt collection will not negatively affect your customer relationships. If anything, it will help improve the way you communicate with your clients.
Is there only one kind of debt collection service in Australia?No, there are several ways to recover debts in Australia. There will be providers that focus on large debts for huge corporations and there are those that specialise in collecting debts for SMEs. All you need to do is choose the best one for your business.
How much does it cost?This depends on the type of debt collection service, age of debt, and firm's commission rate. Usually, the older the debt is, the higher the collection fee.Most debt collection firms ask for 5 to 30 percent commission upfront. But at Slater Byrne Recoveries, you don't have to worry about this. We don't require commission pay upfront nor ask for any joining or admin fees. You only pay us when we successfully recover your debt.
When is the best time to pursue a debt?You should start the collection process the moment an invoice becomes overdue. Call or send out polite emails to remind your clients of their outstanding balance.
Can old debts still be recovered?Yes, but it must not be older than six years. In Australia, there is a six-year limit for pursuing debts from simple contracts. In the Northern Territory, the limit is only three years.If the debt exceeds these limits, they are considered "statue barred". It's best to consult a legal advisor if you wish to pursue a debt that falls under this category.
For more useful information about debt collection services, head over to our FAQ page.
Debt Collection in Australia FAQ – Infographic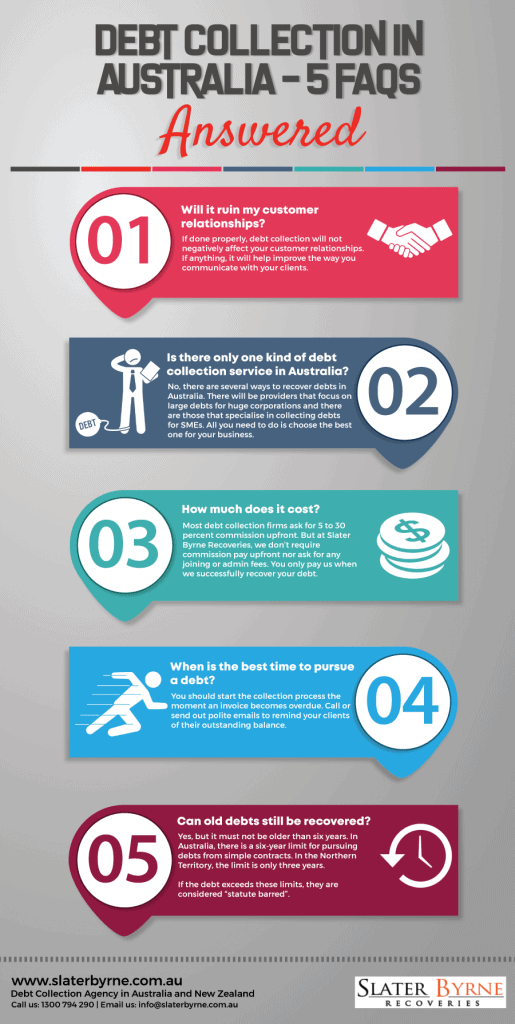 Liam White joined the Slater Byrne Recoveries team in early 2013. He has worked across the credit & dispute resolution industry for a number of years. He is currently working in a Marketing/Head of Sales capacity at Slater Byrne Recoveries.